2021
22nd August – Sandy Community Fun Day
We will be attending, come and see us to find more anour your local club. New players always welcome!:
We are also holding a friendly game of cricket at Sunderland Road against Little Munden, which always proves to be fun. BBQ and drinks available from 4pm.
The club is always looking to increase participations levels for all adult and junior teams. If you would be interested in playing please contact us via the club website sandycricketclub.co.uk, the club Facebook page, or email: cricketclubsandy@gmail.com.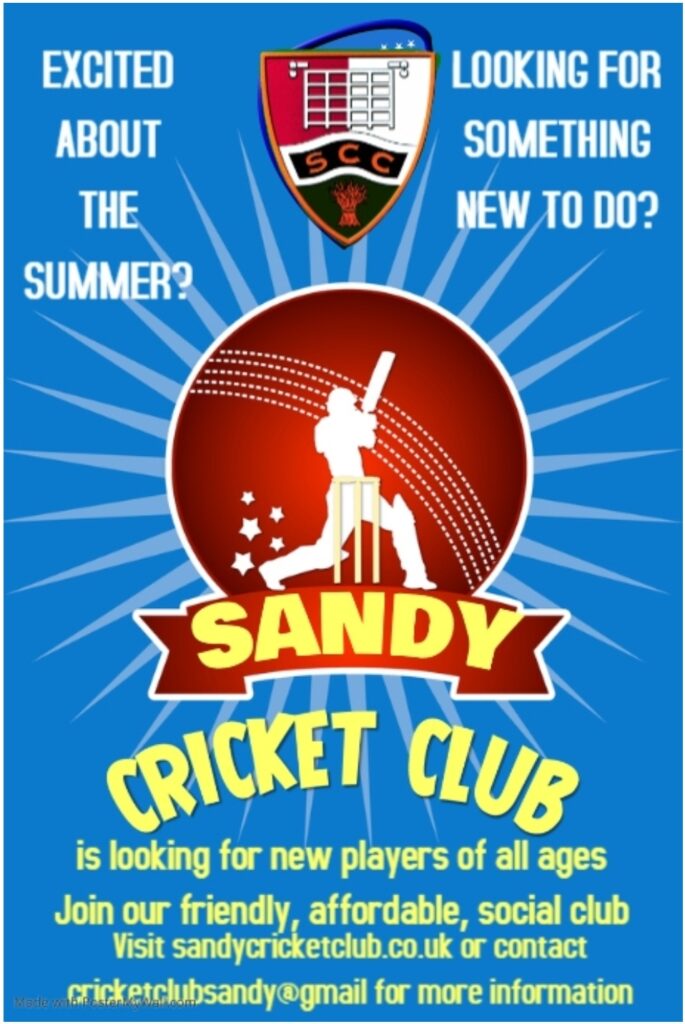 Sponsorship If you would be interested in supporting junior & senior cricket in Sandy by sponsoring Sandy
500 Club Tickets:
TICKETS STILL AVAILABLE, contact us to purchase yours now:-
Purchase your ticket NOW – 1st draw in March 2021. £5 for the rest of the year with great cash prizes (..and better odds than the lottery!)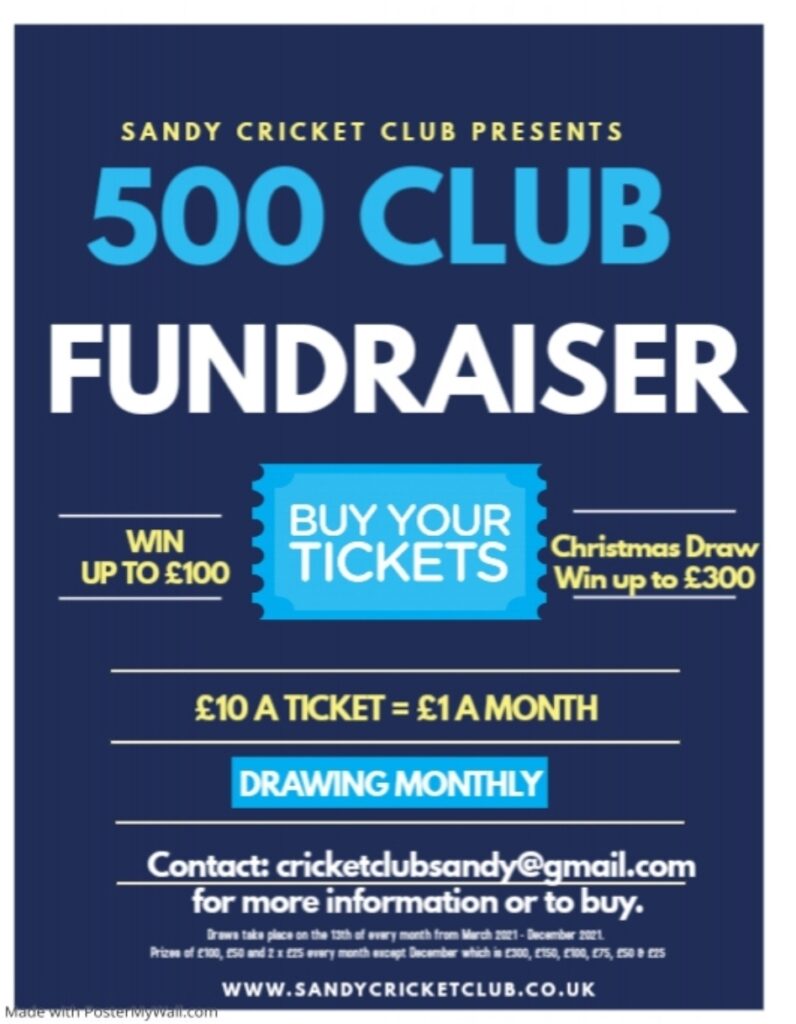 This is a fantastic way to support your local cricket club. It has been a long standing fundraiser and is being re-introduced for 2021, only because we now have a wonderful volunteer to organise it.
A ticket costs £10, and this will enter you into the draw every month, that runs from March through to December. Prizes range from £25 through to a Christmas Special of £300…. There is no limit to the amount of tickets you can purchase.
Lets get these tickets sold – it would simply be the best Thank You for our volunteers ever!
If you wish to purchase a ticket please contact us by clicking here.
2019
Saturday League Games

League Winners
Sandy Cricket Club's 1st XI finished top of the Bedfordshire Invitational Saturday League 2nd Division. In a shortened league season, the 1st XI lost just one match. In the final match of the season Zahaan Hussain scored his maiden century for the club.
The 2nd XI is where the club looks to introduce younger players into adult league cricket and reintroduce senior players who are returning to the game after a few years break. The team finished the season with consecutive victories, and it was great to see the younger players make good contributions towards those victories.
Sandy Cricket Club Colts bags £2300 from Tesco's community grant scheme
Sandy Cricket Club Colts are delighted to announce they have bagged £2300 from Tesco's Bags of Help community grant scheme.
Bags of Help is run in partnership with environmental charity Groundwork, and sees grants awarded to thousands of local community projects every year. Since launching in 2015, it's provided more than £71 million to over 23,000 local community projects.
Millions of shoppers have voted in Tesco stores up and down the country and it can now be revealed Sandy Cricket Club Colts has been awarded £2300.
Work will now begin on bringing the project to life.
The grant will help to purchase new kit and training equipment for our ever growing youth squad to enable them to grow in confidence and participate in their first ever hard ball league. The club will hopefully also be able to recruit new members and secure the future of cricket within the town.
Voting ran in stores throughout January and February with customers choosing which local project they would like to get the top award using a token given to them at the checkout.
Tesco customers get the chance to vote for three different groups each time they shop. Every other month, when votes are collected, three groups in each of Tesco's regions are awarded funding.
Alec Brown, Tesco's Head of Community, said: "Bags of Help contributes funds to community projects up and down the country and we've been overwhelmed by the response from customers voting in their local stores. We're looking forward to seeing more projects brought to life."
Groundwork's National Chief Executive, Graham Duxbury, said: "Bags of Help continues to enable local communities up and down Britain to improve the local spaces and places that matter to them. The diversity of projects that are being funded shows that local communities have a passion to create something great in their area. We are pleased to be able to be a part of the journey and provide support and encouragement to help local communities thrive."
In addition, to mark Tesco's 100th year, they have announced two special voting rounds, Tesco Bags of Help Centenary Grants, in summer and winter 2019 with larger grant amounts available over wider geographic regions. Please look online for more information on if they can support your group either through the normal Bags of Help vote or Tesco Bags of Help Centenary Grants.
Funding is available to community groups and charities looking to fund local projects that bring benefits to communities. Anyone can nominate a project and organisations can apply online. To find out more visit www.tesco.com/bagsofhelp.
For further information please contact:
cricketclubsandy@gmail.com
Beds Indoor League Division 4 winners!!!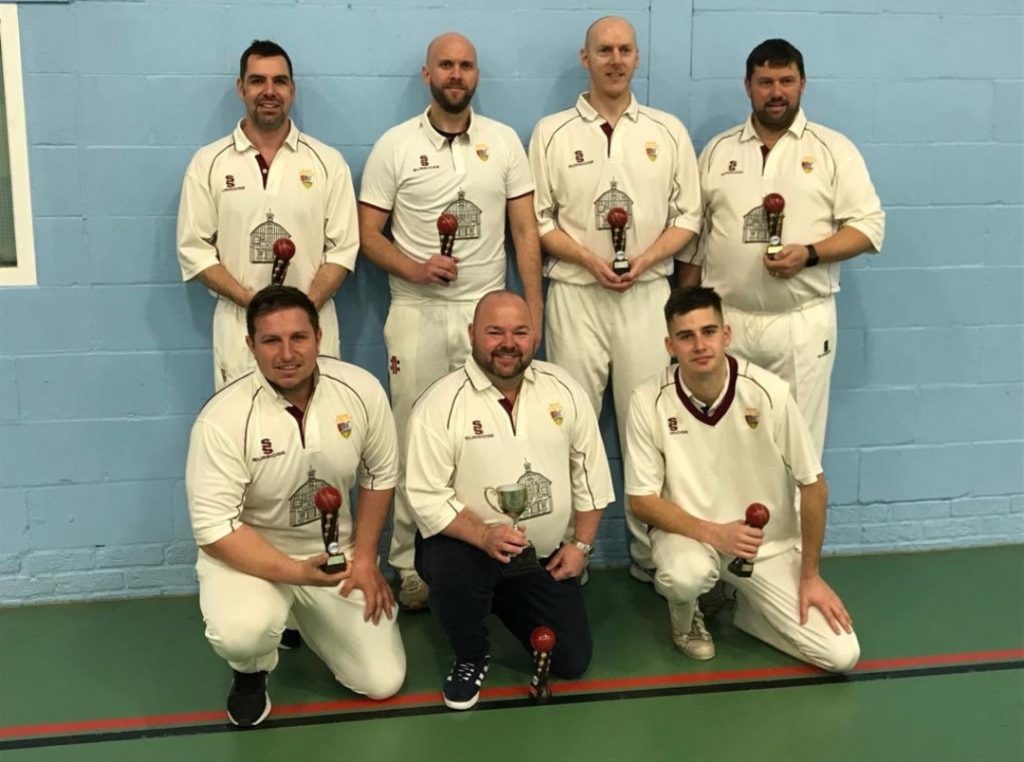 Thank you to Kev Morrallee, Lee Eplett, Paul Stevenson, Harry Chinn, Dave Carr, Chester Ringsell, Dom Higgins, Darren Wheatley, James Kier, Trevor Cooper and Warren Cooper.