April
4th April – Family Event, Open to the Public & Signing On evening
March
500 Club – Fund Raiser : 1st draw 15th March
This is a fantastic way to support your local cricket club. It has been a long standing fundraiser and is being re-introduced for 2020, only because we now have a wonderful volunteer to organise it.
A ticket costs £10, and this will enter you into the draw every month, that runs from March through to December. Prizes range from £25 through to a Christmas Special of £300…. There is no limit to the amount of tickets you can purchase.
Lets get these tickets sold – it would simply be the best Thank You for our volunteers ever!.
If you wish to purchase a ticket please contact us by clicking here.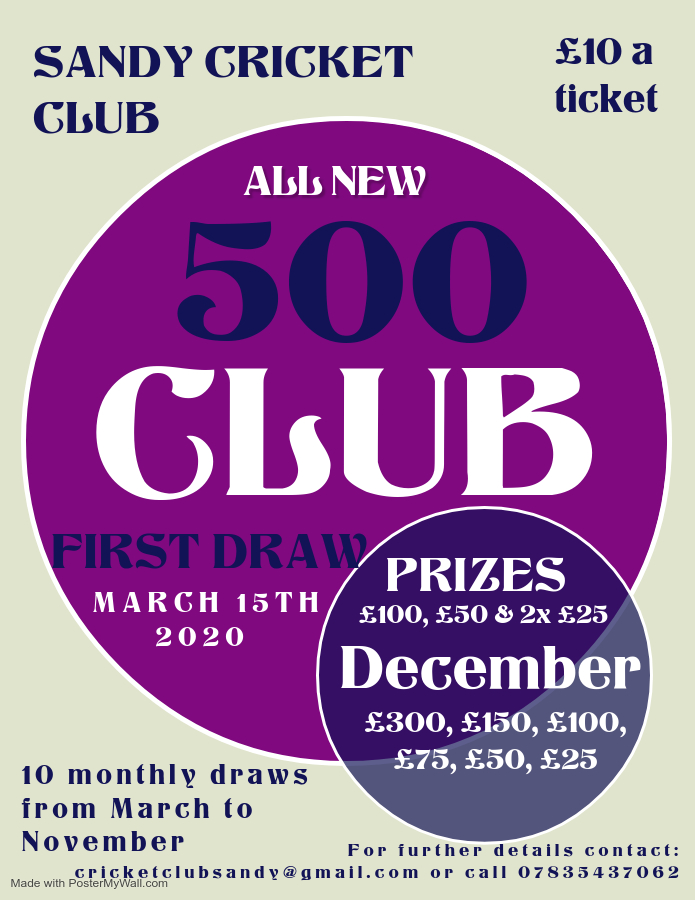 February
13th Feb – Sandy Cricket Club AGM
7:45pm Sandy Roundabout Club, function room (upstairs)
All are welcome and the invitation is open to everyone and especially aimed at Players and Parents of players, who are particularly asked to attend. The committee meets once a month and positions are open. If you are able to offer even the smallest amount of your time or assistance then please come along. It is with your help and support that makes this Club thrive and we need you to be a part of it. Even if you are not able to join the committee the AGM offers an opportunity for you to be involved, to know your Club and to be a part of something that is remarkable!
We will also be taking this evening as an opportunity to sell 500 Club Tickets. Having been a long standing tradition we are re-introducing this fund-raiser. It is a fantastic way to support the Club as well as having the opportunity to win cash back! Any tickets purchased will be put into a monthly draw and prizes range from £25 to £300. What is not to be liked! We hope that you can help us by buying and selling on 500 Club Tickets.
We hope to see you there… make it a date, Sandy Cricket Club
(for more information about the AGM, joining the club as a new player or selling tickets for the 500 Club please contact cricketclubsandy@gmail.com)
NEW Players always welcome 7+ to 70+ …. Local, Low Cost Cricket
More to follow…… check back for updates about our forthcoming social and fund raising events!
Click HERE to find out more about our the 500 Club. A great way to support your club.