Sandy Cricket Club is self-funded. This means we are always looking to ourselves and others to help raise money to buy equipment and assist in supporting the club, so we can provide and offer low cost cricket to the community. We are always looking for local sponsors, help from businesses and the community in order to be in a position to offer you and your children the opportunity to take part in the brilliant game of Cricket.
If you or your business are looking to sponsor a local community group, please get in touch. Click here for our contact details or to use website form for your enquiry.
Cricket has some unique aspects which can be enjoyed by all, and is one of the most popular sports worldwide. It aids fitness and health and is such a great sport that generally encompasses all ability. It is a fun sport, educational and has a rich social experience, working to encourage a sense of co-operation, teamwork and community.
Thank you to our current sponsors:
500 Club – Fund Raiser :
This is a fantastic way to support your local cricket club and has been a long standing fundraiser for our club.
A ticket costs £10, and this will enter you into the draw every month, that runs from March through to December. Prizes range from £25 through to a Christmas Special of £300…. There is no limit to the amount of tickets you can purchase.
If you wish to purchase a ticket please contact us by clicking here.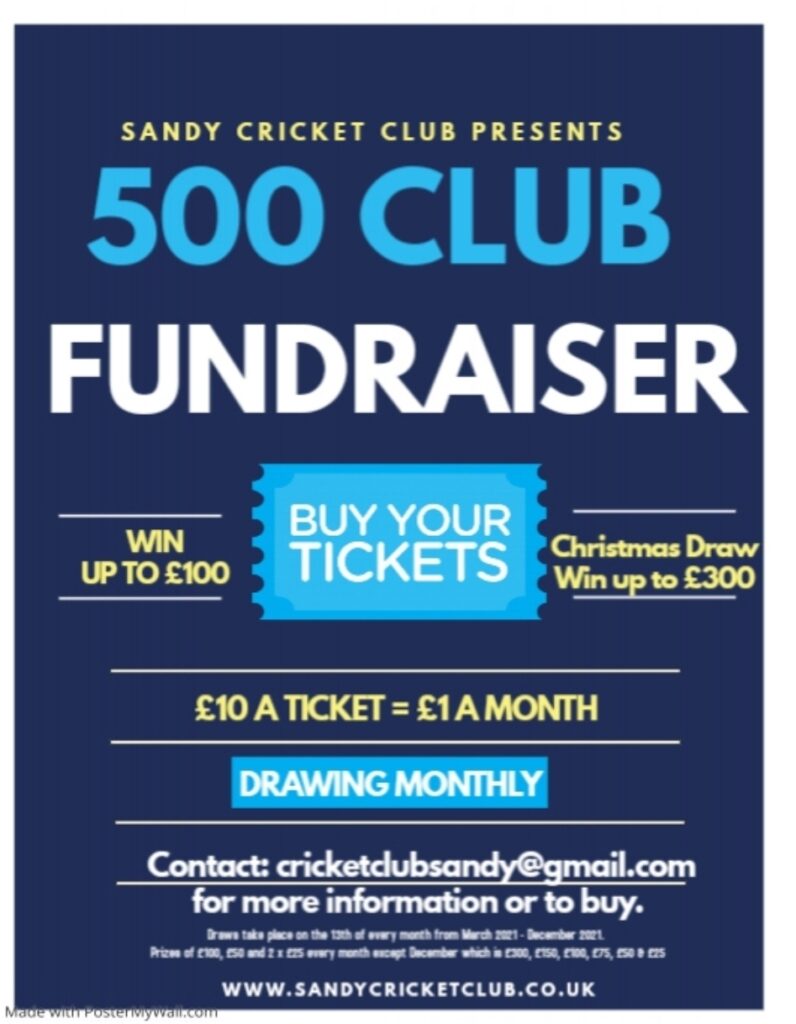 The Competition shall be known as The Sandy Cricket Club 500 Club.
Each member shall pay a subscription of £10, which covers a 10 month period commencing Sunday 14th March 2021.
There shall be 9 monthly draws with prizes of £100, £50 and 2 prizes of £25.
The above draws will take place on the 14th of every month between March and November.
The promoter shall organise a draw on Sunday 12th December 2021, with prizes of £300, £150, £100, £75, £50 and £25.
If at any time the membership falls below 400, the Committee reserves the right to adjust the prize amounts in proportion to the fall in membership.
All profits made after expenses shall be paid into Sandy Cricket Club funds.
The promoter's decision is final.